Womens Pairs – Summary by Lindsay Knight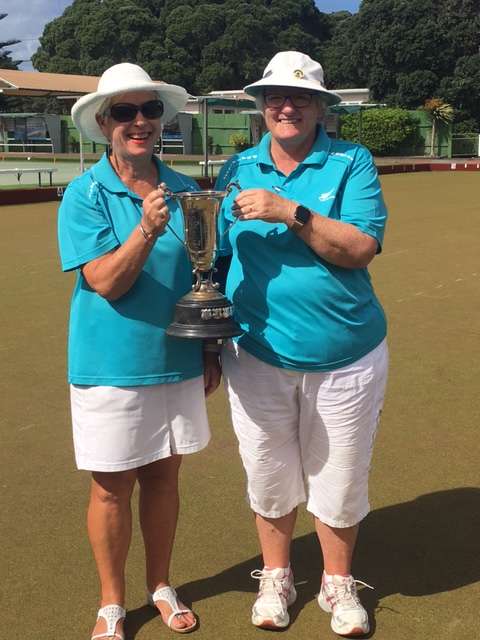 Mairangi Bay's Sheryl Wellington and Theresa Rogers repeated their success of late season in the centre's champion of champion pairs event by winning at the weekend what is arguably the more prestigious championship title.
In the final they beat Orewa's Christeen Dalzell and Jan Harrison, another pair who have been consistent performers in recent seasons, 19-13.
Rogers thus added another title to the gold star she achieved with last year's champion of champions' triumph, confirming her status among North Harbour's foremost leads.
Apart from losing in section play to Dalzell and Harrison and just qualifying as one of the best second placed teams, Wellington and Rogers were in good touch for the most part. They won an epic quarter-final over Birkenhead's Ruth Lynch and Millie Nathan with their last bowl 18-16 and then overwhelmed Manly's Robyn Henderson and Kathy Stevens in the semi-finals.
Dalzell, also a gold star holder, and Harrison beat Takapuna' Robyne Walker and Adele Ineson 15-13 in the other semi-final.
The other quarter-finalists were Browns Bay' Shona Chambers and Ruth Turner, Mairangi Bay's Jan Gledhill and Colleen Rice and Takapuna's Megan Ratcliffe and Geraldine Wight..
The final eight were reached after many close matches and in some cases surprise results which meant several notable casualties.
Takapuna's two Black Jacks, Selina Smith and Wendy Jensen, were among these, with Jensen and her lead Trish Hardy missing out to their club-mates, Walker and Ineson, in the first round of section play, 18-11.
And Smith and her lead Jacqui Belcher were beaten by the vastly experienced Chambers and Turner and another key result was the 19-10 win by Lynch and Nathan over Parlane and Trish Croot.