After a day of bowls where the number of ends won was the important differentiator, we finished up with the Top 8 qualifiers, which were the teams skipped by:
P.Orgias, I.Coombe, S Jamieson, G Keats, J Miles, N Fisher, T Trent and M Radojkovich.
These teams went on to play winner plays winner.
Coombe beat Orgias,
Keats beat Jamieson,
Fisher beat Miles,
Trent beat Radojkovich.
The next round saw
Coombe beat Keats 16-14,
Fisher beat Trent 24-11,
Jamieson beat Orgias 16-10,
Miles beat Radojkovich 16-14.
The 3rd Game and final round saw Coombe, McCrystal, Valentine defeat Fisher, Rogan, Chapman 16-12 to win the trophy.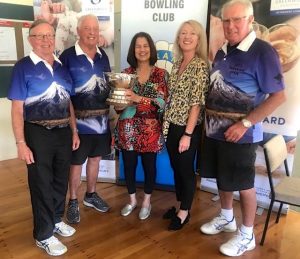 In 3rd place was Keats, Payne, T.Rogers who beat Trent, R and G Horne 22-15 into 4th place.
5th place went to Miles, Cameron and Lindsay 15-14 with Jamieson, Cain and McGregor in 6th and Orgias, Langley and Orgias who beat Radojkovich, B Rogers and J Gledhill 16-7 for 7th and 8th place.
The non qualifiers played a more normal game where the winners were visitors from Milford, the only 4 winner on the day was the team of I McKenzie, G Evans, J Watkinson.
2nd Place went to R Lynch, I and T Hardy with 21/2 wins 26 ends with P Chisholm, K Berman and I Dee in 3rd with 21/2 wins but 22 ends.
Thanks must go to all the helpers, kitchen staff, bar and those who did the early morning work and special thanks to
Sandra Coombe who made everything run smoothly