With the Women's Championship Singles taking place on the Mayfair Green, the slightly smaller Haggle field played in perfect conditions on the Knightsbridge Green.
The winning team was Bob Mullen and Ian Hardy, who had 2 wins and a draw. Perhaps it was the relaxing bus ride that helped Bob to find his top form? A formidable combination, playing some fantastic bowls.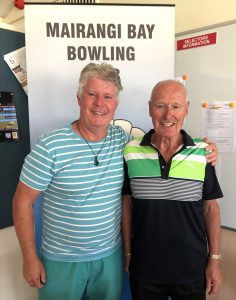 Runners up with 2 wins and 14 ends were Alan Daniel and Glyn Taylor, one of our new members.  Fantastic result guys.
Just 1 end behind and also with 2 wins were Con Kater and John Hanton.  In fourth place were Tony Trent and David Tripp.
The next JACKPOT Pairs is this coming Friday with good numbers entered so far.  Single entries and accepted.  If you are not able to put your name or your team name on the sheet, enter by phoning Garth on 021 950 968.  Two games of 2-4-2 staring at 1:00pm sharp, mufti dress and any team with the chance to win the JACKPOT, which currently sits at $150.00