We are so lucky in our little Mairangi Bay valley:  the predicted rain stayed well away, the sun shone and the full field of 36 played out the 3 games of 2 – 4 – 2 before retiring to the bar  for the after match prize giving.
What a special way to spend a Saturday afternoon!
Like last week, the results were unusual.  Last week there were no 3 winners.  This week, there were 4 teams who recorded 3 wins and a team with 2 wins and a draw, so including the lucky dip prize, there were 6 teams out of the 18, that scored a prize.
Top performance came from the team of Gayle Wilkinson and Bob Mullen, who along with their 3 wins had 16 ends and 33 points.  Well played you two, some excellent bowling from both of you and some great teamwork.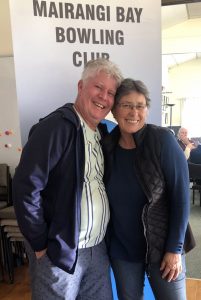 In second place were Jo Baxter and Norm Clarke who had 16 ends and 21 points to go with their 3 wins, while Elwyn Beatson and Gaye Horne were close behind with 3 wins, and 14 ends.  Then came Ian Hardy and Russell Parkinson with 12 ends won.  Unbeaten on the day with 2 wins and a draw was the team of Ian Baxter and Jeanette Orgias.  The lucky dip went to Wayne Glogoskski and Graham Ward.
We were treated to a celebratory round from David Pearse, who at the Annual General Meeting earlier that day, had unanimously been given the honour of Life Membership for his dedication, knowledge and untiring contribution to the club over many years.  An outstanding effort David and so fitting that you have been recognised by being awarded Life Membership.
The sheet for Saturday 27 June is up at the main entrance to the clubhouse, with just a few places left to be filled.