Roll on summer and roll on the bowls – ooopps – here we are back in level 3 !!
The Saturday pm Haggle once again attracted a good number, which is fantastic as there are other club and national tournaments being played at this time of year and many of our members are involved in these competitions.
This week the game format was 2-4-2 with three games of an hour each.  The time was reduced to one hour as the temperature was hot and although there was a slight breeze, it seemed like 3 games of an hour each would do the trick.
There was one team that managed to win all 3 of their games.  Congratulations to Steve McGregor and Michael Caines-Cowan: 3 Wins, 15 Ends and 34 Points.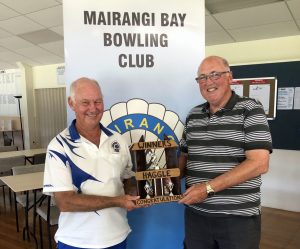 A rare photo of the Haggle Trophy being awarded
2nd – 2W, 12E, 31P – John Miles and Ian McGovern
3rd – 1.5W, 11E, 22P – Russell Parkinson and Roger Potter
Well done Roger.  This was Roger's second competitive game and he is showing fine form.  A champion in the making!!!
Mike Taylor and Ralph Cullen won the lucky draw.
Stay home, stay safe and stay well everyone.
See you on the other side of this latest lock down