For most of the morning the big question was "Shall we cancel or shall we run the Haggle this afternoon?"  The forecast looked OK, however the patches of blue sky quickly changed into heavy showers all morning long and that made it a difficult decision.  In the end it was decided to go for it and it was appreciated that those on the start sheet went with and accepted the decision.
Many thanks to Gayle Wilkinson and Ian Hardy for sorting out the draw and the results.  Thanks also to Colleen Rice for managing the bar for the after match function.
On the day, there was just the one team that managed to win all 3 games.  Well done to Gayle Wilkinson and Garth Partridge who combined well to take out the top prize on the day.  That's 2 in a row for Gayle, so place your bids to draw her as you partner next week.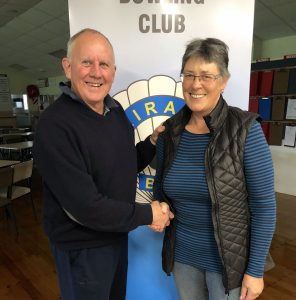 There were 3 teams that had two and a half wins, the best of which was the team of Ron Horne and Margaret O'Carroll.  With 15 ends to go with their wins the were ahead of Steve McGregor and John Hanton who had 11 ends and 24 points.  Next, with two and a half wins and 11 ends were Jeanette Orgias and Les Bolton as they trailed the 3rd place team in winning 4 less points.  The fifth place was taken out by the team of Leon Wech and Flora MacDonald who had 2 wins.
If the weather behaves during the coming week, the Saturday Haggle on 4th July will be played on the of the renovated carpet, so get your name on the sheet, located just outside the main entrance to the clubhouse, and bring your A game.  There will be an extra prize for the best red white and blue costume.