Even with other events happening around Auckland and throughout New Zealand, the Harcourts Cooper & Co Jack 'n Jill Classic attracted a strong field of 2o teams and the weather came to the party with a gentle but gusting breeze keeping the temperature manageable for most of the time.
We are very appreciative of the sponsorship from Harcourts Cooper & Co and the support from Joanne Mimmack and James Dixon for their continued support through sponsorship.  Even in  these interesting times when the number sales of residential properties are so high, Jo and James always seem to be able to be available and support our club.  This is a reflection of their professionalism, their dedication and their experience: all factors that enhance their reputations as real estate professionals.  If you are thinking of selling or would like an appraisal of the value of your property, Jo and James are ready to help.
https://harcourts.co.nz/Offices/809/Harcourts-Mairangi-Bay
The Harcourts Cooper & Co Classic format is over two days with prizes for each day and for the overall winning team.  No team can win more than one prize and so there are plenty of winners.
In overall first place for the tournament was the team from Howick: Brian Chapman, Garry Cotter, Neil Fisher and Allison Rennie.  They had 30 Game points and 36 Ends.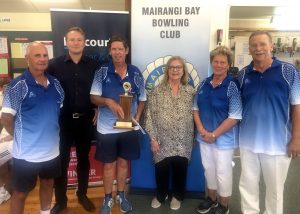 The winning team with our Harcourts Cooper & Co sponsors, James Dixon and Joanne Mimmack
2nd – 30 Game Points & 34 Ends – Phill Chisholm, Ric Lydford, Theresa Rogers and Ruth Lynch
3rd – 27 Game Points – Alan Daniels, Mike Wilkinson, Gayle Wilkinson, Mike Jelley  and Kevin Robertson
4th – 24 Game Points – Leon Wech, Sheryl Wellington, Stuart Jamieson and Bevan Darlington
5th – 24 Game Points – Peter Orgias, Janette Orgias, Allan Langley and Gordon Jenkins
6th – 23 Game Points – Mick Moodie, Evan Thomas, David Payne and Judy McSweeney
Day One
1st – Ian Coombe, Sandra Coombe, Jan Gledhill and Barry McCrystal
2nd – Larry Caine, Tony Trent, Steve McGregor and Colleen Rice
Day Two
1st – Elwyn Beatson, Muy Chhour, Neville O'Connor and Bob Mullen
2nd – Tony Stanaway, Jim Price, Barbara Friedlos and Gerd Hutcheson
Many thanks also to the organising team, lead by Sandra Coombe and to the helpers who work behind the scenes to make the tournament run so smoothly and who enhance our club's reputation for hospitality.