It would be hard to think of better conditions for the Dils Funeral sponsored, Any Combination, Open Triples this week.
Dils has been a long term sponsor of the club, with their involvement going back to when the club was two clubs: the Women's Club and the Men's Club.  We were delighted to welcome the General Manger, Wade Downey to the after match function and prize giving.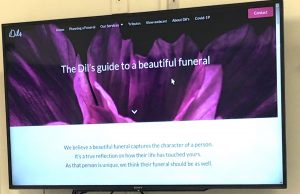 The weather played it's part with the forecast afternoon showers staying away and with just a light breeze lifting the flags.  The greens were running quick and true, and it was great to see visitors, as well as the usual Mairangi teams.  The every second Thursday triples events are gaining in popularity with the fields getting larger each fortnight.  Visiting teams are adding to the Mairangi teams, swelling the ranks and making the games even more competitive.
This week, while there were a number of teams going into the forth round carrying three wins, the game of bowls caught up with all but one of these three winners with only the one team managing to win all four games.  As often happens, a three winning team is beaten in the last game by a team that has yet to record a win: that's just another thing that makes our game so great.
The only team with four wins was the team of Phil Chisholm, Tony James and Ron Horne.  4W, 28E, 67P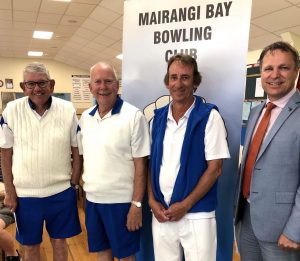 2nd – 3W, 26E, 41P – Leon Wech, Alison Rennie and Bevyn Darlington
3rd – 3W, 25E, 46P – Garry Banks, Robyne Walker and Ann Dorreen
4th – 3W, 24E, 46P – Alan Daniels, Mike Wilkinson and Gayle Wilkinson
5th – 3W, 22E, 42P – George Durbridge, Ian Baxter and John Lindsay
6th – 3W, 21E, 46P – Geoff Ladd, Kevin Robertson and Bob Mullen