We thank our generous sponsor, ARENA Living, for a very enjoyable day of bowls and a touch of wind and sun burn.  Enjoyable and successful for some teams and just enjoyable for many.  ARENA Living is a long term sponsor of our club and our gratitude is shown by the many members who have chosen to invest in their facilities and who speak very highly of the standard of support and life that they enjoy.
The high standard of bowls was reflected in the fact that four wins were required to be in the first three placings.
The winning team of Garry Bank, Robyne Walker and Anne Dorreen had 4 wins, 35 Ends and 71 Points.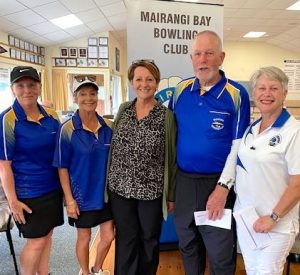 2nd – 4W, 30E, 55P – Gaye Horne, Ron Horne and Tony James
3rd – 4W, 27E, 60P – Ruth Lynch, Trish Hardy and Ian Hardy
4th – 3.5W, 30E, 55P – Tony Stanaway, Joy Watkinson and Bevyn Darlington
5th – Barry McCrystal, Sheryl Wellington and John Valentine
Further prizes were awarded for the best 2 winner morning or afternoon and a lucky dip.