Merry Christmas, Happy New Year and Seasons Greetings to everyone.
On a hot, humid summer day, the 2021 year program got under way with our 2-4-2 pairs and the competition was as hot as the temperature.  Many thanks to Priscilla and Glenda for providing a scrumptious morning tea. This is a very welcome addition to the day and is much appreciated.  Many thanks to all those involved in providing this.
With 4 wins, 28 Ends and 65 Points, congratulations go to the pair of Ric Lydford and Evan Thomas, winners on the day.  There may be an upsurge in demand for the new Aero Evolve bowls that Ric is using.  Well done guys, you combined very well to win the day.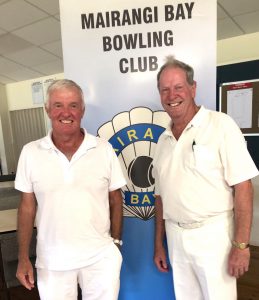 2nd – 4W, 26E, 63P – Tony Popplewell and Steve McGregor
3rd – 3W, 26E, 43P – Ruth Lynch and Ian Hardy
4th – 3W, 24E, 41P – Kevin Sturgeon and David Lloydd
A very generous Ron Horne provided a round of drinks to celebrate his birthday and his win in the Men's Championship Paris. Thank you Ron.