The morning was a like summer and the afternoon introduced a chilly breeze that made it more comfortable to have an extra layer on board. That's spring weather in the Bays. A wonderful place to be!!
The competition was hot once again with 3 teams having 4 wins.
And the winning team was ………………………………………………………………….
Bruce Aley, Don Ambrose and Graham Ward with 4 wins, 27 ends and 41 points.
C O N G R A T U L A T I O N S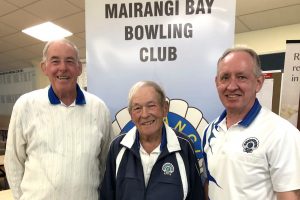 And the best of the rest, in descending order were:
2nd: Con Cater, Kevin Cameron and Brian Rogers with 4 wins, 25 ends and 50 points.
3rd: George Durbridge, Ron Horne and John Lindsay with 4 wins, 24 ends and 47 points
4th: Neil Buckner, Dave Payne and Colleen Rice with 3 wins, and 24 ends
Ian Hardy drilled down into the pile of non winning cards and drew Rex Redfern's team card, and they  won the lucky dip.
If the rain stays away for a few days the next Thursday Open Pairs competition will be on the grass.  YYIIPPEEE!!!
Let's do a sun dance to keep the weather dry.