Monday  24th October (Labour Day) saw the running of the Bays Cup for 1-5 year bowlers, after a two year absence due to covid.  This is the only 1-5 tournament for bowlers with all others including 1-8 year bowlers.
It was a fine, warm day with a gentle breeze and the conditions remained like that all day.  Each team played two games on the carpet and two on our grass green.
The tournament director, Colleen Rice, did an amazing job attracting a full field with three teams on the waitlist.
We had five teams entered from Mairangi Bay which unfortunately dropped to four with Rosemary Nicol and Bill Lowe withdrawing on the morning due to Rosemary testing positive to covid.  So we had 32 teams with teams coming from Epsom, Pt Chevalier, Auckland Bowling Club, Royal Oak and Kohimarama – all from the Auckland side of the bridge.  We had North Harbour teams from Riverhead, Manly, Hobsonville, Takapuna, Warkworth, Browns Bay, Sunnybrae, Mahurangi, Orewa and Helensville.
What a great turn out especially with all the different club colours being worn across the greens.  The vibe was amazing and everyone was enjoying the day.
A BIG THANK YOU to Collen Rice for organising this event.
Thanks also to Sandra Coombe and David Pearse for assisting Colleen in setting up the draw and the prizes.
Thanks to Colleen, Joy Watkinson and Pauline Chisholm for putting on an amazing lunch.
Thanks to Phill Chisholm and Kevin Cameron for their amazing synchronicity in starting the clocks and making sure the mats were behind the two metre mark on the scrims .
Phill and Kevin also along with Michael Thomas set up the greens (hope I have not missed someone) which was fantastic.
Thanks to Alan Daniels for manning the bar which was busy from lunchtime on.
It was great to see Les Bouton there for a big part of the day.  He was impressed with the amount of teams playing and the variety of the clubs represented.  Many thanks to Les for his generous sponsorship for this event.  Les made a speech and presented the prizes.
There were 8 four winners and only four prizes.
Gaye Horne and Michael Thomas had four wins but unfortunately finished eighth. They did however, win a lucky dip prize.
The other teams from Mairangi Bay were Glyn Taylor and Ian McGovern, The Macdonald/McDonald team, Flora and Marian and also our newbies Julie Chhour and Annie McGrath.
The winners were:
Steve Campbell and JC Fuller from Pt Chev with 4 Wins,  and 28 Ends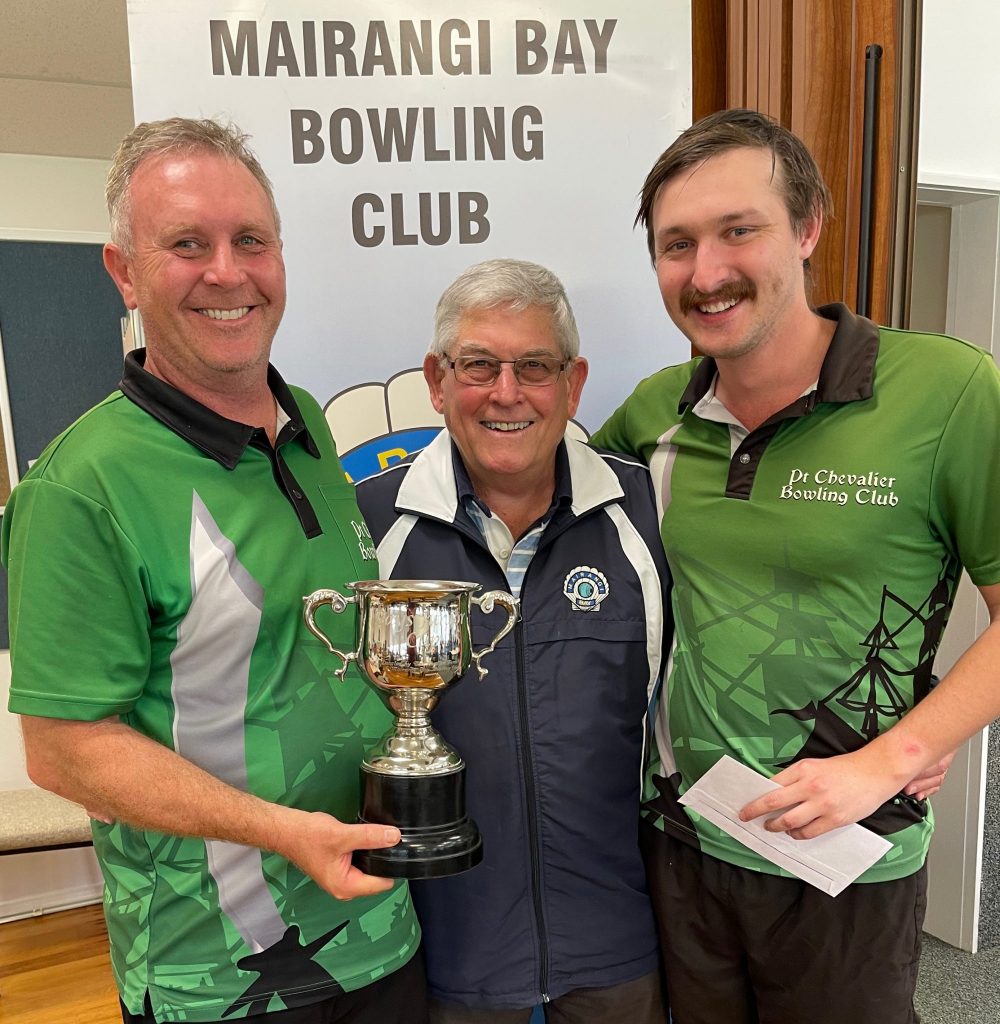 2nd – 4W, 27E, 68P – Nigel Rattray and Dave den Hertog – Hobsonville
3rd – 4W, 27E, 65P – Darren Morrow and Stu Parker – Hobsonville
4th – 4W, 24E, 52P – Laurin Kean and Michelle Kean – Orewa / Takapuna
Round 1 – Jim Centre and Ralph Cullen – Mairangi Bay
Round 2 – Kenny Halliday and Brad Luiten – Manly
Round 3 – Paul Neazor and Phill Garrett – Auckland
Round 4 – KJ and Larissa – Epsom
Again this was a very successful event, with all teams wanting to come back next year.
It also put Mairangi Bay in a very good light in many ways with all the different bowlers and Clubs in attendance.
Well done Mairangi Bay!!!
Alan Daniels
Junior Convenor.
P (09) 479 1489      M 027 290 0127