In perfect conditions, a great field of 30 players took to the Kensington grass green for an afternoon of competitive, yet social bowls.  For a change up from the 2x4x2 format this week was three bowls triples.  The different format just added a bit of variety and fun to the already popular afternoon of bowls.
We have recently had a number of new bowlers join in, including Jayne Mackay, Janet Lyons, Peter Prichard, Annie McGrath and Rhonda Dredge.  Welcome to you all. Great to have you all along.
This week the winning triples team was Steve McGregor, Flora MacDonald and Bill Roan.
C O N G R A T U L A T I O N S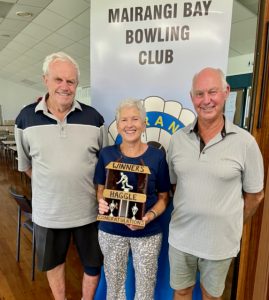 1st – 3 Wins, 15 Ends – Steve McGregor, Flora MacDonals and Bill Roan
2nd – 3W, 11E – Enid Di Cesare, Stuart Mackay and Peter Pritchard
3rd – 2W, 13E – Russell Parkinson, Muy Chhour and Jim Center
4th – 2W 11E – Pat Clarke, Rick George and Dave Hope
lucky dip to Brian Rogers, Rosemary Nichol and Bill Lowe
We look forward to anther full field next week and, depending on the numbers, the format may stay as triples or it may be some form of pairs.  Even if you do not feature in the bowls prizes there are plenty of chances to win a raffle, provided you buy some tickets of course.
The hospice charity bell was jingled a few times as those who had wrong biases made their gold coin donation.
Remember, the start time is 1:00 pm sharp, however you are expected to be ready to play at 1:00 pm.  As a courtesy to the organisers and to the rest of the field, is is good practice to report in around 30 minutes prior to the start time.  Entries are made either online or by phoning the club between 10:45 and 12 midday on the day.  It is single entry, meaning that you do not have to organise a team to play, you just register your interest to play and the teams will be draw in either pairs or triples depending on the numbers.
Many thanks to Enid and Russell for organising such a great event.  Thanks also to the helpers who arrived early to set up the rinks and to those who tidied away the gear afterwards.