What started as a foggy morning turned into a stunning Winters afternoon for the Saturday pm Haggle for the almost full field.
There were some very close games, plenty of draws and many teams finishing with just the one win, testimony of the closeness of the field.
One team stood out by winning all three games.  Congratulations to Steve McGregor and Roger Potter with their 3 Wins, 18 Ends and 35 Points.  They both played well throughout the afternoon with Roger showing outstanding form and Steve being the ultimate skip when at the head.  Great team-work guys.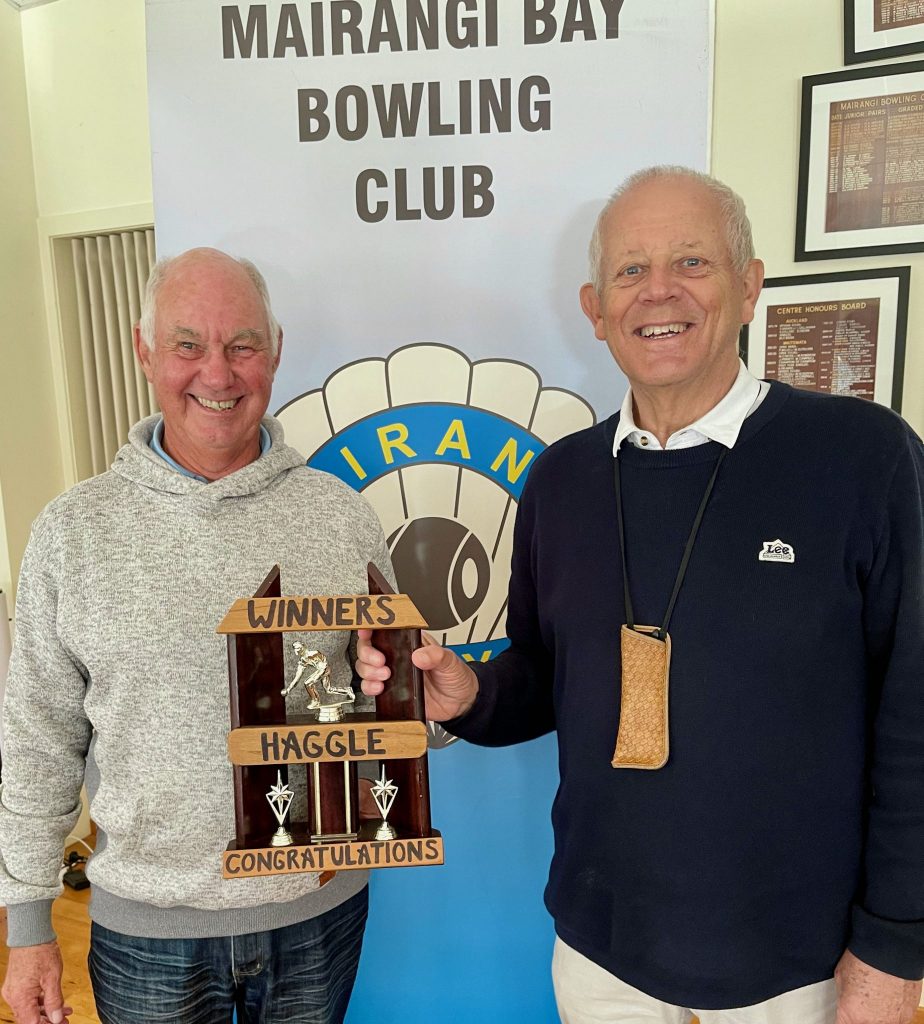 2nd – 2.5W, 14E, 20P – Bruce Aley and Chris Tegg
3rd – 2.5W, 13E, 27P – Peter Orgias and Barry Butcher
4th – 2.3W, 11E, 26P – Bob Mullen and Stuart MacKay
Points are awarded each of the Saturday pm Haggles as follows:
2 Points for a game win
1 Point for a game draw
1 Point for Attending
2 Points for winning the day
1 Point for runner up on the day.
So with 3 Wins, 9 points are available.
(2×3 game points = 6, plus 1 for attending and plus 2 for winning the day = 9 points)
Aggregate Points table as at 24 July 2021.
| | | |
| --- | --- | --- |
| 33 | Steve | McGregor |
| 27 | Graham | Ward |
| 27 | Peter | Orgias |
| 24 | Ian | McGovern |
| 23 | Geoff | Ladd |
| 22 | Wayne | Glogoski |
| 21 | Jim | Center |
| 21 | Janette | Orgias |
| 21 | Russell | Parkinson |
| 21 | Roger | Potter |
| 21 | Michael | Thomas |
| 20 | Stuart | Mckay |
| 20 | Marie | Potter |
| 19 | Barry | Butcher |
| 18 | Rick | George |
| 17 | Rick | Dixon |
| 16 | Michael | Cairns-Cowan |
| 16 | Bruce | Aley |
| 14 | Tony | Trent |
| 11 | Faye | Kitchen |
| 11 | Graeme | McGregor |
| 11 | David | Payne |
| 10 | Helen | Aley |
| 10 | Muy | Chhour |
| 10 | Neville | O'Connor |
| 10 | Mick | Taylor |