What a stunner of a winters day!  After the storms and the cold snap earlier in the week, Thursday turned out to be a blinder and the bowls competition was also hot.
4 wins were needed to be in the top prizes and there were two teams that managed 4 wins.
The better of the two was the team of Bruce McClintock, Colin Rogan and Bart Robertson.  They had 4 Wins, 25 Ends and 61 Points.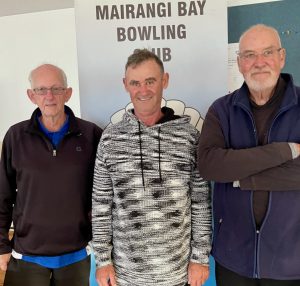 C O N G R A T U L A T I O N S ! ! !
2nd – 4W, 22E, 66P – Murray Radojkovich, David Payne and Colleen Rice
3rd – 3.5W, 18E, 39P – Jim Price, Glyn Taylor and Glenda Rountree
4th – 3W, 19E, 41P – Leon Wech, Baz McCrystal and Bevan Darlington
am prize to Phill Chisholm, Kevin Robertson and Rick George
pm prize to Arthur Beale, Kevin Cameron and Brian Rogers
Lucky Dip to George Jones, Steve McGregor and Jo Baxter