A new record was set on this fine spring Saturday afternoon, with a field of 42 players.  The teams were randomly drawn based on player seeding and, with the numbers in the field,  3 games of eight end triples were played. The other interesting dimension was that each person had to rotate and take a different role for each game.  If you started as lead, the next game you were at two and in the third game you were skip.  The draw and this rotation made for a levelling of the teams and resulted in just the one team to manage 3 wins.
The winning team, the only team with 3 wins, had 18 ends and 32 points for, and that was the team of Jan Gledhill, Jim Price and Jim Center.  Congratulations.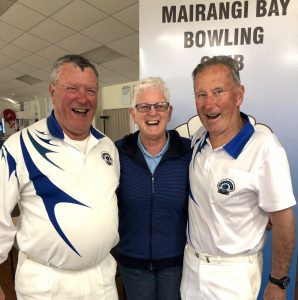 The next three prizes went to teams with 2 wins.  There were a number of "unlucky" two win teams who missed out on the prize slots as the had fewer ends won.
In second place, with 2 wins, 15 ends and 33 points was the team of Alan Telford, Allan Langley and Pam O'Connor.  Third with 2 wins 14 ends and 28 points were the hugely talented team of Geoff Ladd, David Payne and Garth Partridge.  And taking out the minor money with 2 wins, 12 ends and 27 points were Les Boulton, Mike Wilkinson and Margaret O'Carroll.
If the rain stays away, it is likely that next weeks haggle will be played on the grass.  There is a sheet up and the slots are filling fast, so if you'd like to play, don't delay.