What a stunning Autumn afternoon up on the suntrap Harcourt's Community Carpet Green.  It must have been running fast as one seasoned bowler told me he put 20 shots into the ditch (no wrong biasses though).
Russell Parkinson and Rosemary Nichol had 3 Wins and 14 Ends are the champions.
CONGRATULATIONS.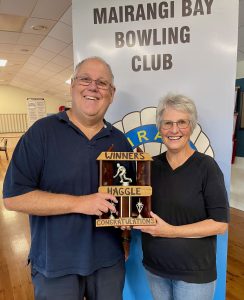 2nd – 2W, 18E 33P – Rick George and Ralph Cullen
3rd – 2W, 12E, 30P – Tony Trent and Stuart Mackay
lucky dip – Graham Ward and Marion McDonald
The sheet for Saturday 1st May is up at the main entrance to the club house.  Please note that some players will be involved and will be playing in the Women's 1 – 5 Singles Championship or the Men's 1 – 5 Singles Championship.