Round three of the SilverFin 5's series was played in near perfect conditions.  We welcomed visiting teams from Milford, Takapuna and Birkenhead and a composite team lead by Garry Banks. A full field of 16 teams played the interesting format of pairs and triples, 3 games of each with a break for a cuppa and a break for lunch.
We thank our sponsor, Silverfin Capital – https://www.silverfin.nz/ – and encourage you all to consider Silverfin as an investment option for a portion of your financial plan. Silverfin Capital Limited is a business specialising in property syndication and management. Their schemes are structured to provide investors with a cash return from commercial and industrial real estate, without the burdens of private property ownership.
The format for the Silverfin 5's means that a team of five players play 3 games of pairs and 3 games of triples.  And so it is possible to win 6 games.  However with such a strong field and such competitive teams it is an outstanding achievement to win even 5 out of the 6 and today we had two teams with 5 wins.
Congratulations to Ian Hardy, Ruth Lynch, Trish Hardy, Lionel Drew and Evan Thomas as they managed 5 wins and 52 points to be the winning team.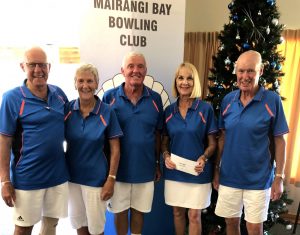 2nd – 5W, 50P – Leon Wech, Colleen Rice, Gerd Hutcheson, Bevan Darlington and Tony Popplewell
3rd – 4W, 55P – Jan Gledhill, Sheryl Wellington, Phil Chisholm, George Durbridge and John Gledhill
4th – 4W, 49P – Geoff Ladd, Ian Baxter, David Lloydd, Norm Clarke and Pat Clarke
oh so close – 4W, 47P – Larry Cain, Stuart Jamieson, Tony Trent, Steve McGregor and  Noelene Culpan
The next Silverfin 5s date has been changed from Tuesday 19 January 2021 to Tuesday 26 January 2021.  Please confirm the availability of each of your team members and indicate on the start sheet that your team is available for play on January 26th, when we look forward to welcoming our sponsor, Silverfin Capital Ltd.
Along with our thanks to Silverfin Capital goes our thanks and appreciation to the team of helpers and organisers, lead by Sandra Coombe.  So much work goes on behind the scenes to make these events happen and we thank all who helped out.