Many thanks to our sponsor, Silverfin Capital, a leading commercial property syndicator, with over $388 million of property assets in their portfolio.
The winds of October were absent and this, along with the different format, made for a very enjoyable day of bowls on our well prepared and maintained grass greens.  Mixed teams of 5 players played both pairs and triples with the team makeup changing for each of the 3 rounds.
The winning team was the team of Murray Radojkovich, Des Lowe, Brian Rogers, Theresa Rogers and Barry McCrystal.  They had 5 wins (out of 6 games) and won 56 ends.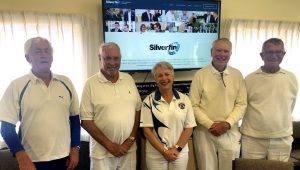 2nd – 5W, 50E – John Miles, Caryl Miles, Kevin Cameron, Arthur Beale and John Lindsay.
3rd – 4.5 W, 50E – Peter Orgias, Janette Orgias, Allan Langley, Alan Donnelly and Glynn Taylor (correction)
4th – 4.5W, 48E – Ian Hardy, Ruth Lynch, Trish Hardy, Lionel Drew and Evan Thomas
This was the first of the 6 monthly Silverfin Fives introduced a new format to our calendar. The field is limited to 16 teams and the sheet for Tuesday 17 November is almost full, so if you are thinking of entering a team, do it now.