Little did we think that we would get through a full day of competition. The weather forecast was for showers turning to heavy rain and that's what it looked would happen when we arrived, however, apart from a few light sprinkles, the North Easterly breeze kept the rain away from Mairangi Bay and allowed the competition to be completed.
The winning team on Tuesday 30 March 2021 was made up of Murray Radojkovich, Des Lowe, Brian Rogers, Theresa Rogers and Steve McGregor (a substitute for Barry McCrystal – fishing!!).  For the 5 months of the Silverfin 5s, they were the only team to record 6 wins from 6 games – oh apart from one other team that managed it back in November (Coombe, Coombe, Horne, Valentine and Horne).
So with a full house of 6 wins on the day, congratulations to the Radojkovich team. Many thanks to Silverfin and Broden Race, who presented the days prizes.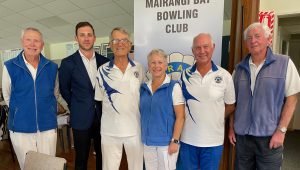 The Silverfin 5s was a new concept, started back in October and being held the third or fourth Tuesday of the month.  Not only were there monthly winners, but the points were accumulated and the overall winners were found after the last day, Tuesday 30 March. The points were awarded as 4 points for a win and 1 point for a draw.
In overall third place were Ian Coombe, Sandra Coombe, Gaye Horne, Ron Horne and John Valentine with 61 points.
Second – Ian Hardy, Ruth Lynch, Trish Hardy, Lionel Drew and Evan Thomas with 68 points.
Overall first place went to the Radojkovich team with 70 points. (I'm sure Steve will find a way to split the prize money with you Barry)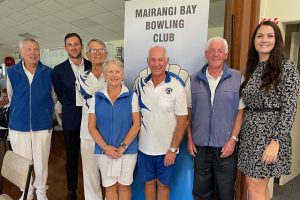 the overall winning team (minus Barry McCrystal) presented with their prizes by Silverfin Commercial Property Manager, Broden Race and Silverfin Marketing & Communications Manager, Tyler Handcock.
Well done to all the participating teams, to our sponsor Siverfin Capital Ltd and to Sandra Coombe and the other organisers who came up with the concept and did all the behind the scenes work to make it run so smoothly.  Lot's of fun.  We look forward to this taking a regular spot on the club events calendar and to your teams participation.