Hi Everyone,
Sunday saw the running of the Stanaway Trophy for Juniors at Manly.  The weather was fine with a cool breeze and the rain stayed away.
Mairangi Bay had five teams entered and each team was allowed 2 x 1-8 year players.  This year the tournament was a blind draw and not seeded as previous years. Each team played two games on both greens.
This was a challenge with one green running fast and the other very slow.
The trophy was won by a team from Takapuna
Jeremy Brosnan, Jerry Belcher, Jacqui Belcher and Bevin Smith. They had 4 wins and 30 ends.
Second was a Manly team with also 4 wins.
Third was the Riverhead team with 3 wins and 22 ends.
Best of our teams was
Allan Blackman,Russell Parkinson, Gayle Wilkinson and Louise Ball. They had 3 wins but not enough ends to beat Riverhead.  They were last year's champions but could not achieve the repeat.
The teams of
Neil Buckner , David Payne , Gaye Horne and Colleen Rice.
Alan Daniels , Mike Wilkinson , Kevin Robertson and Allan Langley.
Ron Horne , Tony James , Garth Partridge and Bob Mullen.
All had 2 wins and a draw.
The team of Rosemary Nicol, Flora MacDonald, Marian McDonald and Glenda Rountree, all first year bowlers had a tough day having 4 losses.  They lost their original skip, Tim Schofield during the week and with the tournament not being seeded as previous it made for a much harder day than normal.  They really enjoyed their day though and gained a huge amount of experience.
There were two lucky dip prizes ,the first going to the likely lads from Orewa , skipped by Matthew Higginson.
They had two draws, one against Neil's team and one against Alan's team, and then two wins including a narrow one over Ron Horne's team.  They were sick of playing Mairangi Bay teams at days end.
The second lucky dip went to the hugely popular Alan Daniels team.
Surprisingly there were a large number of wrong bias bowls on the day including yours truly so there were a number of gold coin donations into the charity box.
This was another excellent Junior tournament and most were much happier with the new blind draw concept.
Luckily no Mairangi Bay teams ended up playing each other.
Manly Bowling Club has confirmed that there will be no First Year singles tournament for this season due to Covid-19 and a lack of options of days to play this tournament.  This is a shame but that is what we are dealing with in the current situation.  At least we are back playing bowls again , some better than others!!!
The Juniors now move to Browns Bay on the 23rd August for the Latimer Cup and we have 4 teams entered in this event.
Finally some previous results .
The 1-5 year singles.
Gaye Horne beat Beth Drummond to win the Women's. Well done Gaye.
David Payne beat Allan Langley 21-12 to win the Men's. Well done David.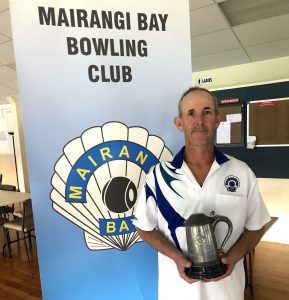 In our much awaited 1st year singles.
In our much awaited 1st year singles .
Rosemary Nicol and Marian McDonald played each other in the final game of a round robin, each having had 2 wins.  Marian lead most of the way playing some lovely bowls but Rosemary kept coming back and in the last two ends she manage to grab the title with a 21-19 win.  Well done Rosemary.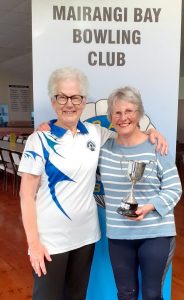 In the Men's it came down to a final. The battle of the Rick's, George v Dixon, Red bowls v Blue bowls.
George started very strong playing great draw bowls but as in the Women's, Dixon kept close enough.
Every time George seem likely to surge ahead, Dixon came back. Eventually they were tied 18 all and Dixon managed to finally get ahead and snatch the win 21-19.  A great game to watch and the first of many tussles these two will have.  Well done Rick. (Dixon).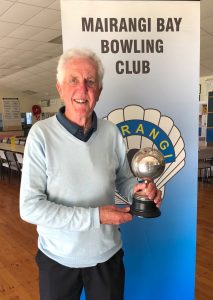 It looks like we will have a field of 5 teams for the any combination Junior 1-5 pairs on Sunday 6th September.  This will be finalised this week.
Alan Daniels
Junior Convenor
P (09) 479 1489 M 027 290 0127