Sunday March 14 saw the post section play in the Women's Championship Singles being played in absolutely ideal conditions: fast running greens, a clear blue sky and very little breeze.
The 4 qualifiers for the post section play were Theresa Rogers, Sheryl Wellington, Jeanette Orgias and Colleen Rice.
In one semi final, Theresa beat Sheryl 21 – 5 and in the other, Colleen beat Jeanette 21 – 4.
Colleen carried on her form from throughout the tournament and played outstanding bowls in the final to win 21 – 8 over Theresa.  The final end (picture is of Colleen's 4 shots) is just one example of how well Colleen played.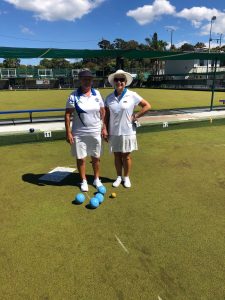 CONGRATULATIONS Colleen
Women's Singles Champion 2020 / 2021 Season