Because entry numbers were light for this tournament it was decided to open it up to mixed teams.
Several of the regular ladies' teams split up to form 2 mixed teams & we finished up with 14 teams.
Despite the light rain in the early afternoon everyone had an enjoyable day & the general consensus was that this should become a regular format.
A delicious morning tea of scones, slices & fresh fruit, kindly supplied by Greenwich Gardens helped make this a very successful day.
There was only one 4 winner & that was the team of Arthur & Janne Beale with Jim Center.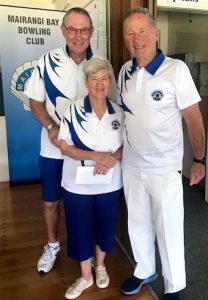 In second place with 3 wins, 23 ends & 48 points were Con Kater, Brian Rogers & Marion McDonald.